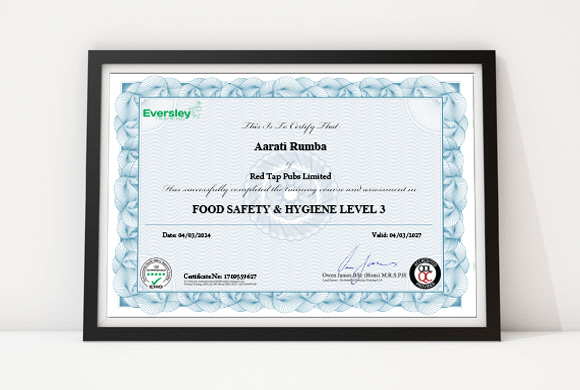 Food Hygiene Level 3
The Food Hygiene Certificate Level 3 is suitable for owners, managers and supervisors. This is the most respected online food hygiene course an establishment can take. Topics covered include, Food Poisoning & Food Borne Infection, Food Hygiene Law, Design of Food Premises and Hazard Analysis Critical Control Point (HACCP).
Food hygiene regulations recommend at least one person is trained to food safety & hygiene level 3. Particularly supervisors and trainers of other staff.
The level 3 food hygiene course is accredited by Open & Distance Learning Quality Council and EHO Approved. Local authorities accept this certification. Possessing a food safety and hygiene certificate clearly demonstrates to visiting environmental heath officers (EHO), that the establishment proprietor is fully aware of their obligation and responsibility with regards to safe food handling legislation, whist serving members of the public. In particular the ability to supervise and train other member of staff handling or serving food to the public. If you are not a manager or supervisor please see food hygiene level 2.
2 Free Printed Certificates
1 Free Certificate Lamination
Free Postage of your Certificates
What you see is what you pay - No hidden charges
Food Hygiene Level 3 - £27