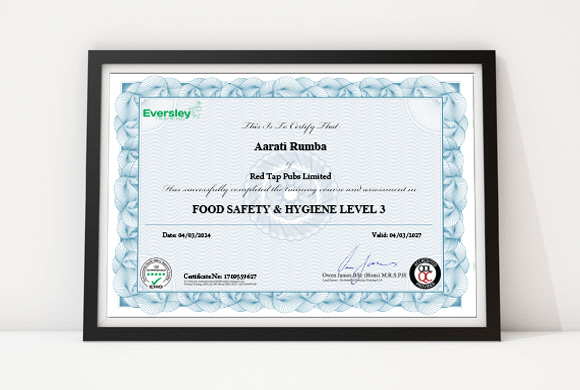 Food Hygiene Level 3
The Food Hygiene Certificate Level 3 is suitable for owners, managers and supervisors. This is the most respected online food hygiene course an establishment can take. Topics covered include, Food Poisoning & Food Borne Infection, Food Hygiene Law, Design of Food Premises and Hazard Analysis Critical Control Point (HACCP).
Food hygiene regulations recommend at least one person is trained to food safety & hygiene level 3. Particularly supervisors and trainers of other staff.
The level 3 food hygiene course is accredited by the Open & Distance Learning Quality Council and EHO Approved. Local authorities accept this certification. Possessing a food safety and hygiene certificate clearly demonstrates to visiting environmental health officers (EHO), that the establishment proprietor is fully aware of their obligation and responsibility with regards to safe food handling legislation, whilst serving members of the public. In particular the ability to supervise and train other members of staff handling or serving food to the public. If you are not a manager or supervisor please see food hygiene level 2.
Instant Digital Certificate
Printed Certificates
Certificate Lamination
Free Postage of your Certificates
Prices are displayed Ex VAT
Why is Eversley so cheap?
Don't feel over suspicious by asking this, it's the most common question we get asked. You see we restrict what we pay to advertise on search engines. For example, some engines for certain food hygiene keywords would charge us up to £4 every time our ad is clicked, obviously, this soon adds up and has to be taken into account and ends up with customers footing the bill. Established in 2003 with over 30,000 courses sold.
Food Hygiene Level 3 - £27